James&Co is now cruelty-free vegan AND chemical-free sustainable.
Our classic original vegan jackets in polyurethane
are now legacy as we transition to
sustainable water-based leather look fabric.
Buy yourself part of James&Co history in this incredible sale.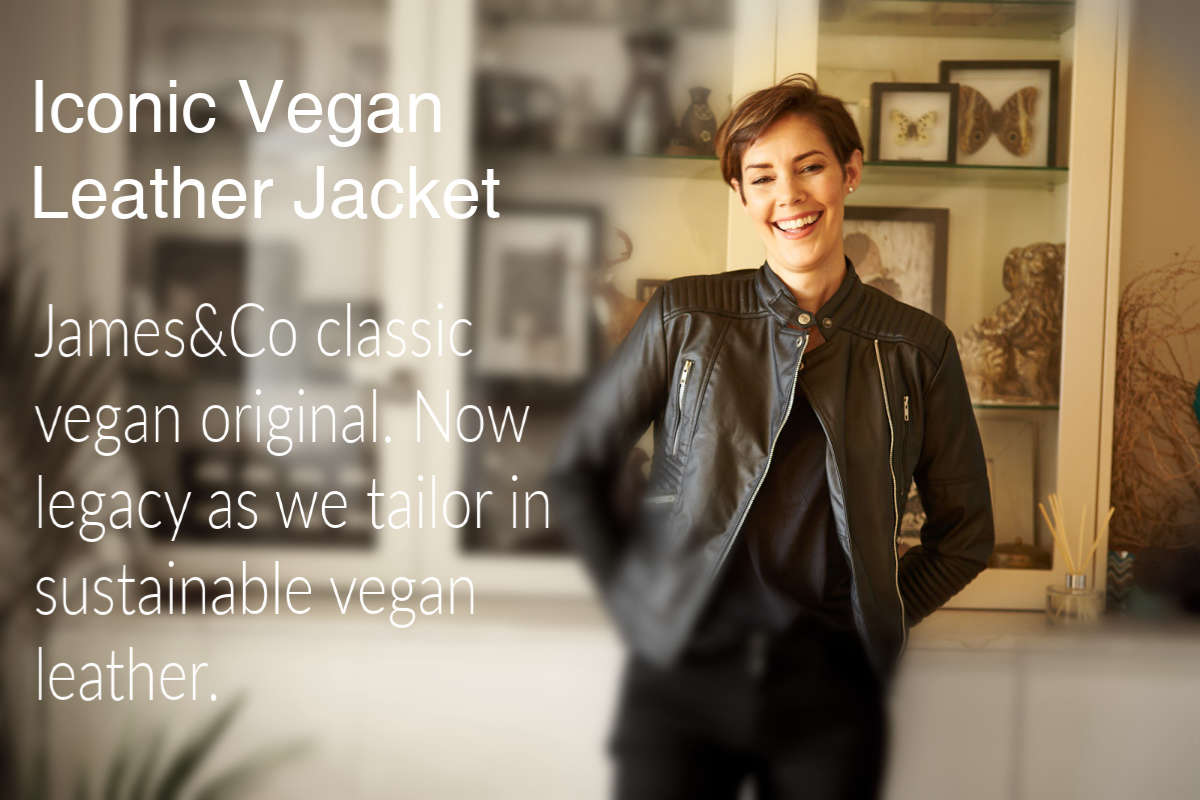 You can buy this stylish Zoe biker for 60% off.
Or you can buy it with another vegan leather classic: $100 for 2!
View Product
We are committed to environmental and social responsibility in our outerwear business.
Vegan Leather Jacket Biker Helen
Regular price
$ 150.00
Sale price
$ 0.00
Get 60% Off With Discount Code LEGACY60
Description
Our 'Helen' womens biker jacket in matte black vegan leather is a classy adaptation of the biker jacket.
UNIQUE CENTER ZIP CLOSURE - 'Helen' has a center zip closure. It includes a stitch-on cloth cover with monogram James&Co studs, giving you a choice of how to close it and how to wear it open. There are 2 pockets with zip closures on each front panel.
CROPPED LENGTH WITH FRONT BOTTOM BAND - 'Helen' is cropped biker length with a bottom band.  The zip cloth cover stops a few centimeters from the bottom exposing the zips. 
TAB COLLAR & SHOULDER FEATURES - the collar of the jacket is tab style which is consistent styling whether the biker jacket is open or closed. The shoulders have epaulettes also with the unique James&Co monogram studs.
SHAPED & PANELLED BACK - the back has subtle panel stitching on the back.
TRUE TO SIZE - 'Helen' is true to size with our regular sizing. Check the Sizing Guide tab for dimensions and international comparisons.
Real Vegan Brand
James&Co is accredited as a Peta-approved Vegan label. Many other leading brands that offer faux or vegan leather, suede or fur outerwear also make products in real leather. We don't. We are committed to cruelty-free. No animalskins here.
Donations
We donate 5% of each sale to organisations working in mental health and suicide prevention. 
Manufacture
James&Co jackets are made ethically under a Supplier Code of Conduct. The factory of Mukhtar&Sons in Sialkot, Pakistan has been visited by James&Co management and confirmed to be operating in a legally compliant way. All personnel there are professional, extremely pleasant and lovely to work with!
---
Share this Product
---
More from this collection